Podcast: Download
Subscribe: RSS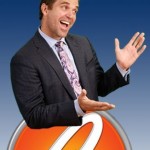 Yesterday, I received an invitation from a fellow Toastmaster to be on his radio show. He had received some extra air time and was looking for people to come on the radio with him today. We had talked about it in the past, so he put the screws to me and gave me the invite yesterday afternoon. Since I want to have my own show one day and I had the time available, I decided to jump at the opportunity. I have to say being in a radio studio being asked questions about personal finance and thrift was a little intimidating, but it was also exhilarating. The host, Conn Jackson, has committed to helping me get my own show up and running next year by teaching me the ins and outs of having a radio show. Thank you Conn for having me on the show and your commitment to helping me.
It was also a pleasure to meet Doug Grady who was promoting his book The Ripple Effect
as well as telling his story of how a single prayer led to this ripple effect. Check out Doug's site here. I also had the privilege of meeting Heather Means who was Conn's guest host of the day. She told her story of how she came to write her book, My Special Force
, which is a love story about her husband who died of cancer while being in the special forces.
Listen to the episode and let me know what you think.